Wuhan Hezhong Biochemical Manufacturing Co., Ltd.

Wuhan Hezhong Biochemical Manufacturing Co., Ltd. Quality first service-oriented!
Home>Products>Testosterone Anabolic Steroid>Doxycycline Monohydrate CAS 17086-28-1 Doxycycline Hyclate 12a-octahydrotetracen
English
Doxycycline Monohydrate CAS 17086-28-1 Doxycycline Hyclate 12a-octahydrotetracen
HZ

CAS 17086-28-1

China

GMP, HSE, ISO 9001, USP, BP

1g

Negotiable

as you required

3-5 days

T/T, Western Union, Money Gram , Bitcoin

1000kg/day
Wuhan Hezhong Biochemical Manufacturing Co., Ltd.
Wuhan Hezhong Biochemical Manufacturing Co., Ltd.China
Wuhan Hezhong Biochemical Manufacturing Co., Ltd.2020-07-10 09:46:19

Welcome to my shop! Glad to serve you! Please send your question!
Product Details
| | | | | | |
| --- | --- | --- | --- | --- | --- |
| Product Name: | Doxycycline Monohydrate | CAS: | 17086-28-1 | Color: | Yellow |
| Assay: | 99% | Usage: | Anti-infective Drug | Sample: | Acceptalbe |
Product Description
Doxycycline Monohydrate CAS 17086-28-1 Doxycycline Hyclate Monohydrate
ITEM

SPECIFICATION

INDEX

Characteristics

A yellow crystalline powder hygroscopic

Positive

Identification

(A) (B) (C)

Positive

Crystallinity

Meets the requirements

Conforms

Acidity

pH 5.0 ~ 6.5

5.48

Related substances

Methacycline ≤ 2.0%

0.37%

6-epidoxycycline ≤ 2.0%

0.72%

Other impurities ≤ 0.5%

0.49%

Water

3.6% ~ 4.6%

4.58%

Assay

(anhydrous and ethanol free)

880 μg/mg~980 μg/mg

932 μg/mg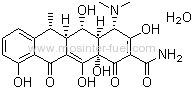 Doxycycline is an antibiotic that is used in the treatment of a number of types of infections caused by bacteria and protozoa. It is useful for bacterial pneumonia, acne, chlamydia infections, early Lyme disease, cholera and syphilis. It is also useful for the treatment of malaria when used with quinine and for the prevention of malaria. Doxycycline can be used either by mouth or intravenously.
Common side effects include diarrhea, nausea, vomiting, a red rash, and an increased risk of a sunburn. If used during pregnancy or in young children may result in permanent problems with the teeth including changes in their color. Its use during breastfeeding is probably safe. Doxycycline is a broad-spectrum antibiotic of the tetracycline class.[ Like other agents of this class it kills bacteria and protozoa by inhibiting protein production
Doxycycline came into use in 1967. It is on the World Health Organizations List of Essential Medicines, the most important medications needed in a basic health system.
Medical uses
Generic 100 mg doxycycline capsules
In addition to the general indications for all members of the tetracycline antibiotics group, doxycycline is frequently used to treat Lyme disease, chronic prostatitis, sinusitis, pelvic inflammatory disease, acne, rosacea, and rickettsial infections.
Antiprotozoa
It is used in prophylaxis against malaria. It should not be used alone for initial treatment of malaria, even when the parasite is doxycycline-sensitive, because the antimalarial effect of doxycycline is delayed. This delay is related to its mechanism of action, which is to specifically impair the progeny of the apicoplast genes, resulting in their abnormal cell division.
It can be used in a treatment plan in combination with other agents, such as quinine.
Antibacterial
Moraxella catarrhalis, Brucella melitensis, Chlamydia pneumoniae, and Mycoplasma pneumoniae are generally susceptible to doxycycline, while some Haemophilus spp., Mycoplasma hominis, and Pseudomonas aeruginosa have developed resistance to varying degrees.
It is used in the treatment and prophylaxis of anthrax (caused by Bacillus anthracis) and Leptospirosis. It is also effective against Yersinia pestis (the infectious agent of bubonic plague), and is prescribed for the treatment of Lyme disease, ehrlichiosis and Rocky Mountain spotted fever. In fact, because doxycycline is one of the few medications shown to be effective in treating Rocky Mountain spotted fever (with the next-best alternative being chloramphenicol), doxycycline is indicated even for use in children for this illness. Otherwise, it is not indicated for use in children under the age of eight years.
Antihelminthic
Doxycycline kills the symbiotic Wolbachia bacteria in the reproductive tracts of parasitic filarial nematodes, making the nematodes sterile, and thus reducing transmission of diseases such as onchocerciasis and elephantiasis. Field trials in 2005 showed an eight-week course of doxycycline almost completely eliminates the release of microfilariae.
Spectrum of susceptibility
Doxycycline has been used successfully to treat sexually transmitted, respiratory, and ophthalmic infections. Representative pathogenic genera include Chlamydia, Streptococcus, Ureaplasma, Mycoplasma, and others. The following represents MIC susceptibility data for a few medically significant microorganisms.
Chlamydia psittaci: 0.03 μg/ml
Mycoplasma pneumoniae: 0.016 μg/ml – 2 μg/ml
Streptococcus pneumoniae: 0.06 μg/ml – 32 μg/ml
Adverse effects
Cautions and side effects are similar to those of other members of the tetracycline antibiotic group.
An erythematous rash in sun-exposed parts of the body has been reported to occur in 7.3–21.2% of persons taking doxycycline for malaria prophylaxis. One study examined the tolerability of various malaria prophylactic regimens and found doxycycline did not cause a significantly higher percentage of all skin events (photosensitivity not specified) when compared with other antimalarials. The rash resolves upon discontinuation of the drug.
Unlike some other members of the tetracycline group, it may be used in those with renal impairment. Doxycycline is contraindicated in the pediatric treatment of acute bacterial rhinosinusitis.
Interactions
The combination of doxycycline with dairy, antacids, calcium supplements, iron products, and laxatives containing magnesium is not inherently dangerous, but any of these foods and supplements may decrease doxycyclines effectiveness.
Previously, doxycycline was believed to impair the effectiveness of many types of hormonal contraception due to CYP450 induction. Recent research has shown no significant loss of effectiveness in oral contraceptives while using most tetracycline antibiotics (including doxycycline), although many physicians still recommend the use of barrier contraception for people taking the drug to prevent unwanted pregnancy.
Pregnancy and lactation
Doxycycline is categorized by the FDA as a class D drug in pregnancy. As with all tetracycline antibiotics, it is contraindicated in pregnancy through infancy and childhood up to eight years of age, due to the potential for disrupting bone and tooth development. Therefore, doxycycline should not be administered to children under the age of eight except in the treatment of anthrax, or where other medications are contraindicated or ineffective.
Doxycycline crosses into breastmilk. The adverse effects on teeth and long bones of children directly administered tetracycline antibiotics is documented, but these effects have not been recorded in infants exposed through breastmilk. Although the dose an infant would receive through breastfeeding would likely be minimal, a theoretical risk exists.
Pharmacokinetics
Doxycycline–metal ion complexes are unstable at acid pH, therefore more doxycycline enters the duodenum for absorption compared with the earlier tetracycline compounds. In addition, food has less effect on absorption than on absorption of earlier drugs with doxycycline serum concentrations being reduced by about 20% by test meals compared with 50% for tetracycline.
Physical and chemical properties
Expired tetracyclines or tetracyclines allowed to stand at a pH less than 2 are reported to be nephrotoxic due to the formation of a degradation product, anhydro-4-epitetracycline causing Fanconi syndrome. In the case of doxycycline, the absence of a hydroxyl group in C-6 prevents the formation of the nephrotoxic compound. Nevertheless, tetracyclines and doxycycline itself have to be taken with precaution in patients with kidney injury, as they can worsen azotemia due to catabolic effects.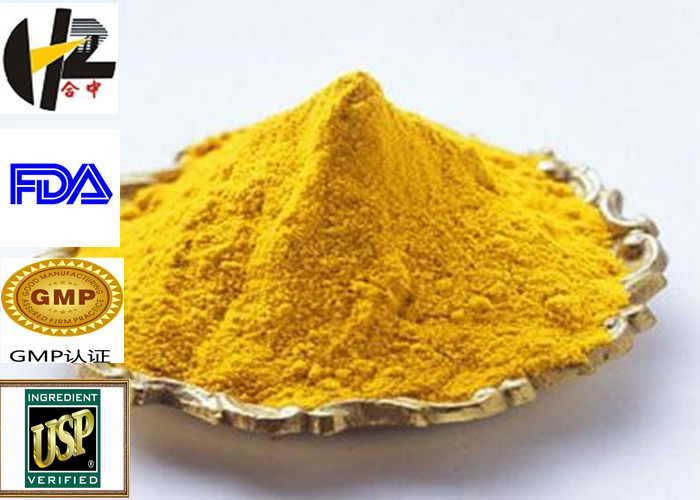 Doxycycline Monohydrate CAS 17086-28-1 Doxycycline Hyclate 12a-octahydrotetracen Images
Contact Us
Wuhan Hezhong Biochemical Manufacturing Co., Ltd.

Address

Phone(Working Time)

Fax